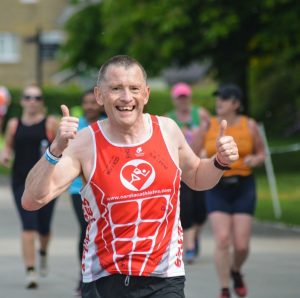 Born: 21/10/67 Holmfirth , West Yorkshire UK
Died: 11/05/13
Re-Born: 12/05/13
Accreditations
Cardiac Athlete Ambassador (2013), Medtronic Global Champion (2017), Medtronic Global Alumni Host (2018). Holmfirth Harriers AC Member.
Occupation: Water Treatment Chemist (Bsc Hons Applied Chemistry)
Running Achievements
Post SCA >7000 miles (2013-June 2018)
2000 M in 2016-17
Post SCA Parkrun PB 20.14
Post SCA 10m PB 73 mins & 30 Secs
Post SCA 10K PB 44.30
Pre SCA Marathon PB 3hrs 29 mins 38 secs (Blackpool UK 2013)
UK Meet Up 10m Thorsby Hall (UK): 1st Cardiac Athlete back 2015, 1st Cardiac Athlete back 2016, 2nd Cardiac Athlete back 2017.
Average miles per week 30 Miles.
Fastest Mile pace 6mins 30 secs. Average pace 8 min mile. Race pace 7.30 min / mile
Survival Story
SCA at Parkrun Huddersfield 11th May 2013 requiring off duty Doctor & nurse to perform CPR, Paramedic administered 6 defibs, shipped to local hospital for second SCA requiring further 3 defibs plus 2 hours lucas 2 machine and 36 hours ice induced coma.
Recovery very swift – back walking 30m after 10 days, 6 weeks off work plus attended rehab in Huddersfield. Ran a 10K within 3 months of SCA in just under 1hour.
Limited now to no marathons or half marathons but 40M week , no more than 10M in anyone go & HR below 140bpm.
Other Achievements
Prominent campaigner to save local hospital that saved me (Huddersfield royal Infirmary)
Charity Run 2014 to raise £2,500 for Air Ambulance in Yorkshire.
2000M Charity run 2016-17 to raise money for British Heart Foundation.
Frequent Appearances on BBC Look North & Radio Leeds & Local paper (Huddersfield Examiner) from above campaigning works. Also Marathon Talk (hosted by Tom Williams).
Selected as Global Champion in 2017 & represented UK over 10 miles. Invited back 2018 as Alumni.
Hobbies
Football, Photography, running.