Who are Cardiac Athletes?
Are you a heart patient wanting to return to sport?
If your cardiac recovery has been so good that your cardiologist has agreed to let you return to your favourite sport "as long as you don't overdo it!" then Cardiac Athletes, launched in 2001, is for you.
Cardiac Athletes
are people with heart conditions
have been medically cleared to do sports
are beginners, amateurs & elites
are male, female, of all races & ages
belong to this international team of champions & pioneers
are your new friends, mentors & coaches
What do we offer?
FREE, FREE, FREE! …
Website
Forum with blogs
Private Facebook Group
Online magazine and publisher
Global social network support group
Information, advice, and guidelines
Fitness tools and calculators
Leaderboards
Garmin, Strava, and Park Run teams
much, much more …
What do we do?
Support, uplift and encourage each other
Meet up and take part in team sporting events
Win trophies
Raise money for charities
Save lives with the defibrillators we donate
Raise awareness of heart conditions and treatments
We are ambassadors for healthy lifestyle changes
We have a lot of fun and celebrate life every opportunity we get!
Join Us!
If you think you are a Cardiac Athlete then get involved and jump right in: Join the forum here
We are a friendly bunch and you have much to gain. We will help you sort out your diet, get you exercising safely and effectively, help you quit smoking, reduce your weight and stress levels and much, much more. We look forward to chatting with you.
Alternatively, if you know someone with a heart history then please tell them about this website today. They will thank you!
Feel free to look around the site, but before you do that please read our Terms & Conditions.
Charitable Status
On 8 February 2011, the Charity Commission of the United Kingdom granted Charitable Status to the 'Cardiac Athletes AED Fund' (Charity Number: 1140298).
However, Lars moved to Australia and therefore had to close this charity account.  In it's place he created the CA Ambassador Project.
Funding
No money that comes in goes to me personally. I can always do with help keeping this website afloat and developing this community further. Thank you.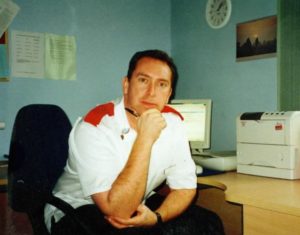 Lars Andrews
MSc (Cardiology), Dip, HNC (MPPM), BSE, ALS, RCCP, AIR, ASAR, CSANZ.
Chief Cardiac Physiologist & Cardiac Technologist
Founder, CEO & Editor of Cardiac Athletes
.