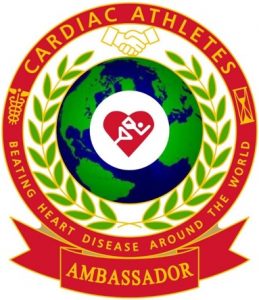 Below is a list of all Cardiac Athlete Ambassadors.  By clicking on their names you will be taken to a page explaining all they have achieved as Cardiac Athletes and as CA Ambassadors.  To find out how you can become an Ambassador for Cardiac Athletes go to the main CA website and under the tab menu "About " you will see an option titled "CA Ambassador Project".  Click on that.
CA Ambassadors 2020
Brett Orpwood (pending - Feb 2020).
Jon Near (pending - May 2020).
CA Ambassadors 2019
Melanie Hardy (pending - Nov 2019).
Maxime Szylvester (pending - Jul 2019).
Rizni Marzook (pending - Jan 2019).
Martyn Bidgood (pending - Aug 2019).
Anthony Heyward (pending - Oct 2019).
Martin Issatt (pending - Aug 2019).
CA Ambassadors 2018
Melissa Cappuccilli (pending - Nov 2018).
Gordon Thomas Birkin - Ilkeston, UK. (023) Dec 2018.
Archie Sissons - Leeds, UK. (022)
Ken Brodrick - NSW, Australia. (020)
Ambassadors 2017
Roland Malkin - Nottingham, England. (016)
Martin Brady - Lancashire, England. (017)
Thomas Price - New York, USA. (019)
Helen Doyle - London, England. (021)
CA Ambassadors 2016
Barry Stone - New Mexico, USA. (012)
Peyton Chitty -  North Carolina, USA. (013)
Mark Osmer - Ballymena, Ireland. (015)
Mike Surridge - Wigan, UK. (014)
CA Ambassadors 2015
Robert Hudson - Blackpool, England. (010)
Colin Hewitt - Morecambe, England. (011)
Sandy Callahan Cardoza - California, USA. (008)
Philip Bonner - Louisiana, USA. (007)
Tim Howard - Colorado, USA. (009)
CA Ambassadors 2014
Kathryn 'Chooka' Taranto -  Victoria, Australia. (006)
CA Ambassador 2013
Sean Doyle - Huddersfield, England. (005)
CA Ambassadors 2009
Tony Jennings -  Queensland, Australia. (004)
Jeff Hardisty - Oregon, USA. (003)
Laura Fucci - New Jersey, USA. (002)