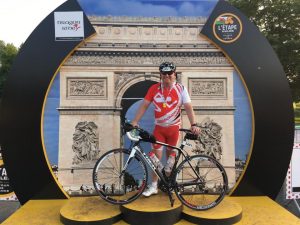 Having a heart attack or any other cardiac problem can be scary. Not all heart problems are lifestyle related, they can be just 'bad luck' caused by one DNA acid-base being in the wrong place, perhaps caused by a virus many thousands of years ago.  Most people look to improve their lifestyle after experiencing a major health problem. If you have recently undergone an open heart surgery or recovered from any cardiac issue, taking up cycling is a wonderful way to improve your health. After a cardiac incident, it could be tempting to begin a vigorous exercise routine. However, you can take advantage of the cycling club organised by Cardiac Athletes where you can take part in a communal ride. We are welcoming people from all walks of life and at all levels of ability and fitness to join our cycling club to reap a lot of health benefits.  This can be done in the real world, face-to-face, or even across continents in the virtual world thanks to software from Zwift, Garmin, and Strava. Cardiac Athletes has a group on all computer platforms.  Join us today.
Cycling & Cardio Problems:
Stroke, heart attack, and high blood pressure are some of the cardiovascular problems that can have a great impact on people of all ages, not just the elderly. People with cardio problems can enroll in cycling clubs to reap health, physical and mental benefits. Cycling stimulates your heart, lungs and blood circulation whilst reducing your risk of cardiovascular diseases.  In addition, it also strengthens your heart muscles, reduces blood fat levels and lowers the resting pulse, improving your overall health condition.  It has long been overlooked that the calf muscles are like having two extras 'mini-hearts'.  They have non-return, one-way valves in the blood vessels of the calf muscles which take the load of the heart and if full weight-bearing walking and jogging is out of the question for you because of worn knee joints, then cycling is an excellent alternative.
Cycling Club & Social Benefits:
Joining in our Cardiac Athletes cycling clubs is a great way to meet likeminded people with whom you can share your passion with. Group cycling is something that you can enjoy with your spouse, friends and perhaps the youngest members of your family. Involving your loved ones in cycling club is a great way to ensure that you regularly participate in group cycling without missing a session.
It's Never Too Late To Join Our Club:
After having an open heart surgery, most people have a misconception that it is too late to take part in group cycling as it could be injurious to their health. However, the truth is that participating in active exercises will help in improving their health. Even people with a serious illness such as diabetes and heart disease would realize an improvement in their life. Moreover, we have volunteers who will assist you with every phase of cycling.
If you have any queries, questions or would like to participate in the Cardiac Athletes Cycling Club, you can use our contact form to reach us.