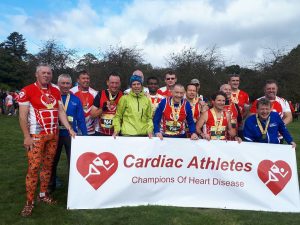 Cardiac Rehabilitation is a customised program of exercise and instruction designed to help people with cardiac disease. The multidisciplinary health professionals work as a team to create an individualised plan that helps to improve your health and quality of life, whilst reducing your risk of death from cardiac problems. At Cardiac Athletes, we provide advanced, phase 4 and 'phase 5' real-world and virtual-world cardiac rehabilitation for patients with any form of heart diseases such as:-
Heart attack
Heart failure
Chest pain
Coronary artery disease
Peripheral artery disease
Cardiomyopathy
Angioplasty and stents
Coronary artery bypass surgery
Congenital heart disease
Heart transplant
Heart valve problem
Pulmonary hypertension
Personalised Rehabilitation Program:
Our cardiac rehab program can be tailored to meet the individual needs and health condition of the patient. We will also perform ongoing assessment during the course of the program and upon its completion as well. During your rehabilitation, we will link you up with a team of medical professionals such as sports cardiologists, nutrition specialists, psychologists and physiotherapists. Our heart disease support services are available to all cardiac patients, regardless of their age and health condition for free.  Cardiac Athletes has many medical and sports science professionals who are also heart patient athletes themselves.  We will keep a close eye on you and make sure you do not come to harm.
Our Program Includes:
Medical Evaluation: Our healthcare team will evaluate your physical abilities and risk factors for heart complications. We also carry out an ongoing evaluation to keep track of your progress over time.
Physical Activity: We will suggest you some low impact physical activities such as walking, running, cycling and muscle strengthening exercises.
Lifestyle Education: We will educate you on healthy lifestyle changes such as heart-friendly diet, quitting smoking and physical activities that are necessary to improve your cardiac health.
Heart Disease Support & Counseling: Depression can affect your life and health. That's why we provide a social support network, counseling every patient, helping them to cope with depression and other negative feelings.
Goals of Our Rehab Programs:
Improve heart function
Reduce the risk of sudden death
Eliminate symptoms of breathlessness
Increase physical stamina
Prevent progression of underlying heart problems
Get back to enjoying your favourite sports and smashing PB's.
If you would like to join our cardiac rehabilitation program, kindly fill in the contact form. One of our member representatives will contact you shortly.