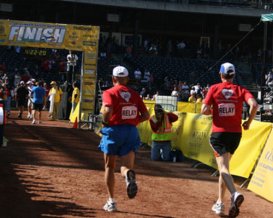 If you have a heart problem or have undergone an open-heart surgery, it does not mean that you have to quit running. In fact, heart patients are encouraged to exercise regularly to enhance their cardiac health. However, the level of workout varies for each patient and it depends on the nature and severity of the problem. Here at Cardiac Athletes, we have a global running club for patients who have recovered from the heart surgery lead by medical professionals who have had heart problems and surgery themselves. Once you have been medically cleared by your cardiologist to return to your favourite sports you can join the Cardiac Athletes global running club.
How to Begin?
Running is possibly the most engaging and gratifying form of exercise that everyone may take up not requiring any expensive equipment and it is what our bodies were designed to do millions of years ago. To begin with, you can take on multiple short walking sessions during the first week following surgery. The intensity of the physical activities can be increased once your wounds are healed.  Once you recover completely, you can progress to running, but under supervision. When you join Cardiac Athletes, you will be given proper training guidance and adequate time to build up your stamina. Once you've gained strength and stamina, you can take part in our running club where you can enjoy jogging with hundreds of like-minded people.
Why Enroll with Our Running Club?
As you run, the calf muscles act as 'mini heart pumps' taking pressure off your actual heart, your heart walls will start to 'remodel' and you will be encouraging collateral coronary arteries to open and widen. This will all result in enhanced cardiovascular health and fitness. As there will be more people running with you, it would be an opportunity for you to socialise with others. Moreover, you will feel healthy, positive, energetic and a complete change in your attitude towards life.
Post heart surgery, it is important to amend your dietary choices and follow routine physical activities. Combining aerobic exercises and running helps to strengthen your muscles and to improve your metabolism. To know more about our running club or to have a consultation with our experts, simply fill out our contact form. Let's get in touch with you quickly.